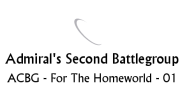 The Admiral's Second Battlegroup (ACBG-01) represents the Tinris World Navy's home fleet under direct command of Admiral Samuel Zevulun. The flagship for this battlegroup is Admiral's Second (AC-01).
The mission of ACBG-01 is arguably simultaneously the most straightforward and most complex of any battlegroup of the World Navy. The battlegroup provides force projection within Tinrisspace and its immediate surrounding phlogiston and is to act upon any threat to Tinris within this area. Pursuant to this, ACBG-01 always has battlegroup precedence in any theater within which it operates.
Ad blocker interference detected!
Wikia is a free-to-use site that makes money from advertising. We have a modified experience for viewers using ad blockers

Wikia is not accessible if you've made further modifications. Remove the custom ad blocker rule(s) and the page will load as expected.